New Year, New You: Annual Physical Exam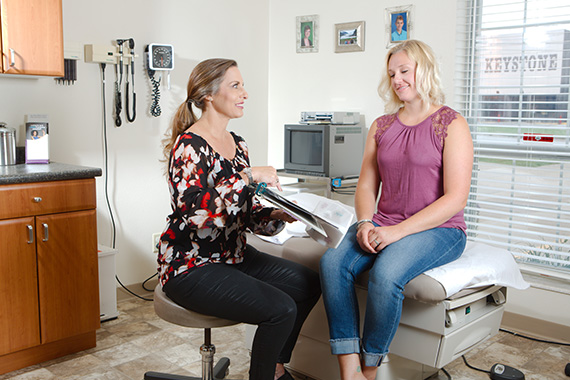 When the new year rolls around, do you think about doing more for your health, like losing weight and eating better? Those are wonderful ways to improve your life! Another great way to manage your health is through your annual physical exam, sometimes referred to as the well-woman exam. This important doctor's visit gathers the data needed to manage any health issues you have and to screen for cancers like cervical cancer and breast cancer. It also allows you to ask questions and develop a plan for your health.
Get Screened
The main purpose of the annual physical exam is to perform the tests necessary to detect health issues before they spiral out of control. At Infinity Medical Clinic, the staff will have you complete forms and answer questions. Once you move to the exam room, they'll take your vital signs and give you time to get ready for the physical exam by Dr. Stemmerman. Height, weight, and blood pressure will be measured, and the staff will ask you screening questions about any medications you are taking and the issues you are concerned about.
Another part of the annual exam is the pelvic exam. These exams are a normal part of the wellness check for women aged 21 and older. The exam may include a pap smear, a procedure that helps detect cancerous cells growing on the cervix. The pap smear is important because cervical cancer can grow undetected with no symptoms, which can make it very challenging to overcome.
If you have a strong history of breast cancer in your family or if you're over age 40, your annual well-woman exam may also include an examination to detect the signs of breast cancer. Be sure to tell Dr. Stemmerman about any changes you have noticed.
Manage Health Issues
Annual physicals are great for keeping your health on track. They can detect some very common health concerns and help you set health goals. Some of the most common health issues we address for patients include high blood pressure, high cholesterol, weight gain, and birth control. You may also have allergies or asthma, and we can help with those, as well.
Dr. Stemmerman will assess your vital signs and talk to you about what you would like to do about any health issues. She can address and prescribe medications such as birth control pills or discuss and place an IUD. She can also help you make a plan to lose weight. Be sure to talk to her about any problems you've had in the past and any goals you have for the year. Our background has enabled us to specialize in women's health and provide a variety of services designed to help women stay healthy.
Some of the services provided at Infinity Medical Clinic include lab work, such as pregnancy and flu tests, urine analysis, blood work, and rapid COVID testing. We also offer allergy testing. The convenience of our on-site lab is great for our patients from Marion and Cedar Rapids. It also enables us to provide results quickly, so you don't have as long to wait for accurate results. 
Ask Questions About Your Annual Physical Exam
At any office visit with your doctor, you should feel welcome to ask questions. The staff and Dr. Stemmerman would be happy to find the answers for you about birth control, menopause, weight loss, and any other medical issue you have.
Do you struggle with seasonal allergies? Are you wondering whether that mole on your back should be removed? Are you thinking about starting a family? Have you been feeling down in the dumps? Do you have massive migraines? Whatever your concern, Dr. Stemmerman and the staff at Infinity Medical Clinic want to help. We encourage you to write down your questions and bring them with you to the office. You may also call us with questions about your health or about our services.
If you don't have your annual physical set up yet, now is the time! Just call the office to get on the schedule!