What to Expect at a Sports Physical
Is your child ready to participate in sports at school? If so, he or she will need a sports physical, also called an athletic physical or school physical. Marion and Cedar Rapids area school districts require sports physicals in order to identify medical history and any physical issues that could affect sports activities.
Athletic activities can be a lot of fun for kids of all ages and provide physical fitness and socialization. They can also be physically stressful, especially if the child has issues with asthma, diabetes, or allergies. The sports physical can help identify health conditions before your child participates in certain sports so they can play safely.
What is a Sports Physical?
The sports physical includes a physical exam and medical history. Much like a work physical for adults, it is a required examination that is separate from the normal annual "well child" doctor visit. It can be a good time to identify any immunizations that are due for your child, but the main purpose is to ensure a child is fit to participate in sports activities.
The physical examination will take records of height, weight, blood pressure, pulse, and so on. The doctor will also check the heart, lungs, ears, throat, and abdomen. More importantly, the physical is intended to determine if any health or development issues could interfere with the child's participation in a sport.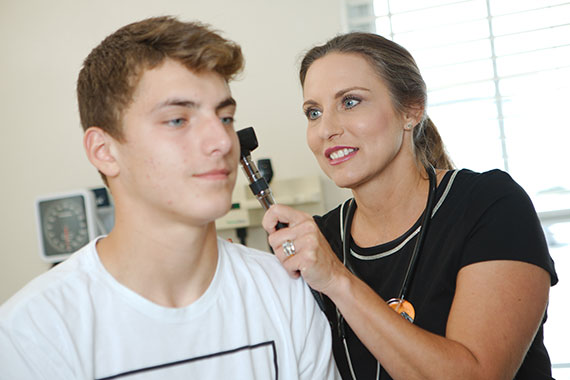 For the medical history, you will want to make sure you can provide details about chronic medical conditions that you and your family have had treated in the past. Your list may include diabetes, asthma, cancer, arthritis, or other conditions. In addition, the doctor will want to know about past injuries. If your child has broken a bone or strained any muscles or joints, these will be documented, and the physician can recommend ways to prevent future injuries.
The doctor can recommend steps to take for your child's specific conditions and the sports he or she plans to join. For example, a child with Type 1 diabetes will need to be mindful of tracking their activity levels, caloric intake, blood sugar tests, and insulin shots. A teen with asthma could improve their performance and feel more at ease with the right inhaler prescription and other guidance on how to handle asthma attacks on trips.
Required in Iowa
In Iowa, sports physicals are required by school districts. Once completed, the sports physical and accompanying signed physician form allow the student-athlete to participate for one year.
Iowa schools require you to complete a form or forms to verify health conditions and give permission for your child to play sports. The forms and physical must be completed prior to the student participating in practice.
When your child shows an interest in athletics, remember that they will need a sports physical before they can join the team. Contact Infinity Medical Clinic to learn more about athletic physicals for your children.
If your child is ready for a sports physical, please contact Infinity Medical Clinic to request an appointment.